Lavender Bath & Shower Gel
A body wash for the whole family
Leaves the natural oils in your skin
Pure lavender essential oil will help to relax your body, especially children, before bed
Cleaning the bathroom is easy as it leaves no dreaded soap scum
LAVENDER BATH & SHOWER GEL - PURE AND GENTLE
CONTAINS NO – PARABENS, SULPHATES, PROPYLENE GLYCOL, SILICONE OR ARTIFICIAL COLOURS
At a glance – why you should buy the lavender bath & shower gel:
Natural ingredients – no chemicals which is great for your skin
Is ideal for sensitive skin
Leaves no soap scum = easier shower cleaning
Bubbles galore have the kids laughing in the bath
You're buying direct from an Aussie grower
This lavender bath & shower gel is infused with 100% pure lavender oil and formulated to leave your skin soft and silky. The whole family can use this body wash and benefit from its natural calming effect. Lavender is known for its calming and stress-relieving properties, making our lavender bath and shower gel a popular choice for those looking to unwind and relax after a long day.
Our natural lavender body wash will revitalise your skin and you can be confident it does not contain any damaging or harsh chemicals.
Want to get the kids to bed relaxed and ready for a good nights sleep? Then try using this bath and shower gel as part of their night time bath routine. It'll produce enough bubbles to make them laugh.
Don't like cleaning the shower or bath? Well this shower gel doesn't leave a build up of soap scum - that'll make cleaning the bathroom so much easier.
How to use:
Pour a small amount to a wet sponge, loofah, or your hands and then lather it onto your body while in the shower or bath. Bubbles are plentiful and aromatic. Rinse off with warm water.
Size – 255ml
Made in Australia.
Prefer a soap? We have them too – available in our Bath and Body Shop.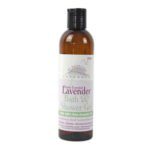 Lavender Bath & Shower Gel
Your review
* Review is required
Email
* Email is required