Clean, protect and soothe naturally
The essential oils and herbal extracts in the Exfoliating Gardeners Soap gives a clean and refreshing scent whilst the shape makes it easy to grip
Our Lavender Lip Balm will naturally protect your lips from the harsh elements
LOVE GARDENING? THEN THE GARDENER'S ESSENTIALS ARE FOR YOU
THIS DUO HAS BEEN PUT TOGETHER ESPECIALLY FOR ALL AVID GARDENERS
At a glance – why you should buy and need these products while you're outdoors:
All natural ingredients – no chemicals are applied to your skin
The lip balm will protect your lips from the drying wind and sun with its beeswax base
The gardeners soap will make getting the dirt out of your hands easily
You're buying direct from an Aussie grower
More about what the Gardener's Essentials contains:
Protect your lips from the harsh outdoors with our Lavender Lip Balm. It's handmade in Melbourne, Australia. This natural lavender lip balm contains 100% pure essential oils and beeswax. Used regularly it helps to repair cracked, dry lips. Pop one in your pocket to have it ready to use all the time.
When you come in from the garden you can wash away the dirt with our Exfoliating Gardener's Soap. It has pumice, olive and avocado stone embedded in it to easily remove that garden dirt from your hands. Just rub it into your hands and let the granules do their job. The perfume is a delightful lavender plus a hint of rosemary, orange, peppermint and bergamot.
The Lavender Lip Balm can also be found in our Bath and Body Shop and the Exfoliating Gardener's Soap can be bought from our Home and Garden Shop.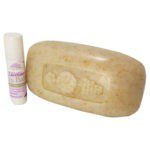 Gardener's Essentials
Your review
* Review is required
Email
* Email is required