Lavender Soap with Flowers
Luxurious soap for your pleasure
Has flowers embedded for exfoliation
Triple milled for a subtle scent
A must for the bathroom
NATURAL LAVENDER SOAP WITH FLOWERS TO SOOTHE AND REMOVE DIRT EASILY
At a glance - why you should buy this soap:
French triple-milled
No chemicals
Flowers embedded for exfoliation
Long-lasting
The whole family can enjoy this natural lavender soap. Every wash will release the subtle lavender scent. Have sensitive skin? Then this soap is just what you need.
A soap that will soothe but will also help to get the dirt washed away more easily. The lavender flowers added will help to help gently exfoliate your skin.
Made using the (French) the triple milling process you can be sure you are getting a pure soap that will last a long time. The final result is a durable and thick, long-lasting bar of high-quality soap.
This soap contains no sulphates, parabens, or nasty chemicals and is made from certified sustainable palm oil. Buy a few for your bathroom so you never run out. Buy 3 to get a discount.
What's in the soap:
Ingredients – Sodium palmitate (Sustainable), deionised water, glycerine, sodium chloride (natural salt), tetrasodium (HEDP). Also contains lavender essential oil, dried lavender flowers and colours.
Size: 200g
Made in Melbourne.
Bath and Body Shop:  Checkout the other 200g varieties available - Bergamot, Geranium & Vitamin E, Natural Goats Milk, Herbal Lemongrass & Lemon Myrtle.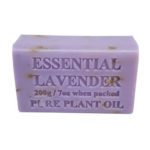 Lavender Soap with Flowers
Your review
* Review is required
Email
* Email is required