Let your body feel great
Lavender Talcum Powder – silky and smooth
Lavender Deodorant – aluminium free for sensitive skin.
Lavender Bath & Shower Gel – natural and gentle for the whole family
FEEL GOOD WITH THESE BODY ESSENTIALS
OUR TALCUM POWDER, LAVENDER DEODORANT AND BATH & SHOWER GEL ARE ALL THE ESSENTIALS THAT EVERYBODY SHOULD HAVE IN THEIR BATHROOM.
At a glance – why you should buy this trio of lavender products:
Save $$
All products great for sensitive skin
All natural and chemical free
First in the body essentials trio is our Talc with its subtle scent of lavender. The fine, silky powder is blended with pure lavender essential oil making it easy to sprinkle on. No chemicals.
Size: 100g
If you have sensitive skin then you need our aluminium free, roll on Lavender Deodorant.  Its odour protection will last all day long. The ingredients include witch hazel, chamomile and of course, lavender essential oil.
Size: 125ml
Third in the trio is our Lavender Bath & Shower Gel which is natural, gentle and infused with 100% pure lavender essential oil. The whole family can use it safely.
Size: 255ml
All products are made in Australia.
All the above products are available individually from our Bath and Body Shop.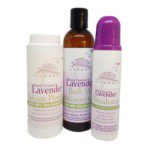 Lavender Body Essentials
Your review
* Review is required
Email
* Email is required