The soap that families love
A gentle and soft lavender soap
Mildly antiseptic
With pure essential oil
A LAVENDER SOAP TO MAKE YOUR FAMILY FAVOURITE
At a glance - why you should buy this lavender soap:
Soft and gentle
French Milled (Triple Milled)
Delicate fragrance
No chemicals
A gentle, soft and mildly antiseptic lavender soap bar. Safe for the whole family to use. Place one at every basin. Love the scent of lavender? Then this is the best lavender soap, it brings the scent of English lavender inside.
The French-milling (triple-milling) processing makes this bar long lasting and non-drying with an extra creamy lather.
Using the soap at bedtime will help to promote relaxation making it ideal for kids bath time. Its use will also help to prevent skin infections and promote a good mood.
This soap bar will leave your skin soft and silky. The lavender scent will last to the last use of the soap. It contains no sulphates, parabens, or nasty chemicals and is made from certified sustainable palm oil.
What's in the soap:
Ingredients – Sustainable Sodium Palmate, Sodium Palm Kernelate, Water (Aqua), Fragrance (Perfume), Glycerine, Butyrospermum Parkii (Shea Butter), Sodium Chloride, Sodium Gluconate, Titanium Dioxide, lavandula angustifolia (lavender essential oil), colours. RSPO Certified Sustainable Ingredients.
Size: 100g
Want a larger bar of soap? Want a different scent? Check out our Bath & Body Shop for more options.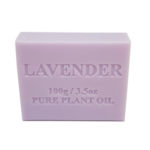 Lavender Soap
Your review
* Review is required
Email
* Email is required