Lavender Heat Pack – Large
Natural Pain Relief for Sore or Aching Muscles
Our heat bag is filled with Australian lavender dried flowers and wheat
They are microwave safe and will shape to the area you need to be treated
The heat and scent of lavender will help you and your muscles relax
LAVENDER HEAT PACK GIVES NATURAL PAIN RELIEF
At a glance - why you need to buy this lavender heat bag:
You're buying direct from an Aussie grower
No fillers - top quality wheat and dried lavender
No pesticides
Grown, harvested, dried and handmade onsite
Put this natural and safe lavender heat pack containing Australian wheat and dried lavender flowers on the bits that hurt and it will help to take away all those arthritic or other muscle aches and pains. Heat bags are well known for being natural pain relief. Place it on your abdomen prior to or during menstruation and it will also help to soothe.
Because it's soft and flexible it can easily be shaped to the contour of the area being treated.
Microwavable – Do Not Overheat – we recommend that you place a small cup of water in the microwave whilst heating. Check the temperature prior to using. If it's not quite warm enough after 1 to 2 minutes then place in microwave for no more than 15 seconds at a time. We recommend holding the bag for approx 5 secs when checking the temperature. Do not add essential oils or flammable product to the heat bag prior to microwaving. If you'd like to add a drop of oil, it MUST be added after the bag is heated. Recommended time for heating is for a bag that is cold. Reduce heating time if reheating and there is still warmth in the bag.
Approx size: 39cm x 17cm
Weight approx: 1kg
Hand Made by Mt Baimbridge Lavender.
Other sizes of heat bags: Heat Bag Small and Teddy Bear Heat Pack – check out the Natural Therapy Shop.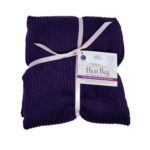 Lavender Heat Pack - Large
Your review
* Review is required
Email
* Email is required