Aromatherapy to help you sleep
Lavender is well known to relax the body and mind, so let it help you sleep
This lavender sleep pillow is so easy to use, just tuck it inside your pillow slip and then enjoy sweet dreams again
Using aromatherapy to help you sleep is a great way to get a good night's rest
At a glance - why you need to buy this lavender sleep pillow:
Contains no fillers just naturally dried lavender
All natural - no pesticides or chemicals used
Only top quality dried lavender flowers
Soft, silky satin material
A natural sleep aid made in Australia
You're buying direct from the grower
Looking for a good night's sleep? Toss and turn for hours? A lavender sleep pillow is just what you need. Try putting one in your pillow slip. We all know the benefits of a good night's sleep so drift off to sleep with the calming qualities of lavender.
It's perfect for you if you just need that little bit of extra calming when you get into bed. It will help to relax and soothe you. The heat and movement from your body release the perfumed oil from the dried lavender flowers to help you get a good nights sleep.
Lavender is relaxing, so after an active day, it's great to help you unwind. It will help you to relax and achieve a night of restful sleep.
The dream pillow contains 100% pure Australian dried lavender flowers which are encased in a soft, square, satin pillow for your comfort. (just remember to remove the pillow before washing)
Size approximately 18cm x 14cm.
Hand Made by Mt Baimbridge Lavender.
Team up with the Eye Pillow and really relax. Available from our Natural Therapy Shop.
FAQ's
Q: Can I wash the Sleep Pillow?
A: No. The lavender needs to release its scent  to help you relax so we only have the one thickness of material.
Q: How do I store it?
A: When it's not in use you can place it in a re-usable plastic container that will keep it dry and dust free. Tip: pop it in a plastic bag and place in the freezer or fridge - on hot nights you can put the sleep pillow in your pillow slip and enjoy a lovely cool feeling while it warms up to release the relaxing scent.
Other helpful tips to get a good night's sleep:
Wind down before bed
Stick to a regular routine
Get into a comfortable position
Put a drop of lavender essential oil on your wrists and temples
Clear your mind
Take regular deep breaths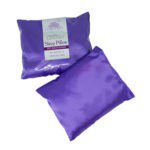 Lavender Sleep Pillow
Your review
* Review is required
Email
* Email is required