Wrinkle-free and crease free clothes
Leaves no residue or marks
A natural and subtle scent of lavender
Can be used on any fabric
LAVENDER IRONING AID MAKES IRONING EASY
At a glance - why you should buy this ironing wrinkle remover:
No chemicals
Leaves no residue
Removes creases with no effort
Safe to use on any fabric
Pleasant aroma
Do you want a safe and natural product to spray on your clothes to remove those hard to move creases? This lavender ironing aid helps to remove those wrinkles and creases easily. Natural and chemical free, no additives… just the subtle scent of lavender.
Give your clothes a light spray and iron as normal. Leaves no residue or marks and is safe to use on any fabric.
To get the best effect, shake vigorously before spraying.
Size: 250ml
Contains demineralised water and lavender essential oil.
Made by Mt Baimbridge Lavender.
Check out our Home and Garden Shop for more natural and chemical-free products.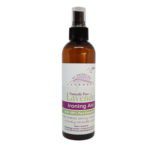 Lavender Ironing Aid
Your review
* Review is required
Email
* Email is required