Lavender Culinary Cooking Duo
Cooking with lavender – go on, give it try
Your choice: flowers visible or not
Add panache and flair to your favourite recipes
COOKING LAVENDER – DIFFERENT BUT DELICIOUS
Add a unique flavour with the lavender culinary cooking duo
At a glance - why you should buy and cook with these lavender cooking ingredients:
You're buying direct from an Aussie grower
The correct lavender to cook with - no need to worry
No pesticides or chemicals
Essence or dried flowers, best of both
Grown, harvested, dried and packed onsite
Cooking with lavender is as easy as just adding a few drops or one to two teaspoons to your favourite recipe. Or, why not invent one of your own! To use just add the dried culinary lavender or the cooking essence to your favourite recipe. The Lavender Culinary Cooking Lavender stores well and it'll last a very long time.
If you don't mind seeing the flowers, use the culinary lavender.
If you prefer the taste but not see the flowers then use the cooking essence. Easy!
Add to cakes, jams, ice-cream, icing/frosting, desserts, scones, bread, biscuits, casseroles, chutney, relish and more. Let your imagination go wild and impress your family and friends.
Store both in a darkened pantry or cupboard.
Lavender Cooking Essence -Only a few drops needed.
Size: 12ml
Culinary Lavender  - Use like any herb, a little goes a long way!
Size: 15g
Both are Products of Australia and are sold individually in our Home and Garden Shop.
Tip: You can use fresh lavender but ensure you use the right sort! Squeeze the flower between your fingertips and it MUST be a sweet lavender smell. If using fresh flowers you may need to use a little more as it won't be as concentrated.
If it smells like 'mothballs' or camphor do NOT use it. It will leave a bitter taste and spoil your creation.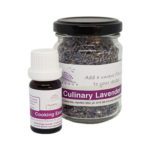 Lavender Culinary Cooking Duo
Your review
* Review is required
Email
* Email is required