Culinary lavender flowers to cook with
Yes, you can eat lavender. Yes, you can cook with lavender. You'll be surprised by the flavour. Panacotta, shortbread, scones and more… all can use the aromatic lavender flavour
Grown in Australia
TRY COOKING WITH LAVENDER
100% AUSTRALIAN, NATURALLY DRIED 'ENGLISH' LAVENDER FLOWERS
At a glance - why you should buy and cook with this culinary lavender
The correct lavender to cook with - no need to worry
In a glass jar for safe storage
No pesticides or chemicals
Grown, harvested, dried and packed onsite
You're buying direct from an Aussie grower
Culinary lavender is the sweet dried lavender flower that has been grown to organic principles especially for cooking with. We have grown it, harvested it by hand, dried it in the Australian summer heat, sieved it six times and then packaged it into glass jars ready for you to impress your family and friends.
Cooking with lavender is just as easy as cooking with any other herb. Add the flavour of lavender to your recipes by using the edible dried flowers.
Add to: scones, bread, biscuits, casseroles, chutney, relish, ice cream, cordial and more.
Experiment with our cooking lavender in your favourite recipes. Remember that a little goes a long way, so do put the recommended amount in the first time.
Our Culinary Lavender is the variety that is best for cooking as not all lavender plants are suitable.
Store in a dark, cool cupboard or pantry. Keep lid firmly in place.
FAQ's
Q: Can you eat this lavender?
A: Yes. This is the only variety of lavender you can cook with. We grow it especially for cooking. You can use this in any recipe needing lavender.
Q: How long will it keep for?
A: Stored in a darkened pantry or cupboard in the glass jar with lid on tight, it will last for years. Over time the colour may fade but the flowers will be fine.
Q: What recipes can you use lavender in?
A: Use it like any other herb in your pantry. Just remember that less is best to start with. Start with a small amount and increase to taste. Culinary lavender can be used in both sweet or savoury recipes.
TIPS:
Using fresh lavender? You may need to use slightly more
Use the correct lavender for cooking or your creations will have a bitter taste
Always start with a small amount and increase if needed
Have your own lavender flowers? To test if the lavender is OK to cook with - squeeze the flowers and if it smells like mothballs DON'T use it. It should have a pleasant or sweet smell
Happy Cooking.
Want to try our Cooking Essence? See our Culinary Duo – buy both and save. Available from our Home and Garden Shop.
Size: 15g
Grown in Victoria.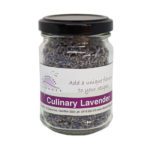 Culinary Lavender
Your review
* Review is required
Email
* Email is required