Lemongrass and Lemon Myrtle Soap
Natural and refreshing – Lemongrass Lemon Myrtle Soap
Triple Milled
Divine citrus scent
Pure plant oils and essential oils
LEMONGRASS LEMON MYRTLE SOAP WITH PURE PLANT OILS
At a glance - why you need to buy this soap:
French triple-milled
No chemicals
Crushed leaves to gently exfoliate
Long-lasting
Refreshingly citrus – this lemongrass lemon myrtle soap can't get any more 'lemony'. If you love the smell of citrus then you'll love this soap, so pop one in the cart to try it out.
The soap has pure plant oils plus crushed leaves to help gently exfoliate your skin.
The (French) triple milling process allows for soap that has no impurities and is longer lasting than other types of soap. The final result is a durable and thick, long-lasting bar of high-quality soap.
There are no sulphates, parabens, or nasty chemicals and it's made from certified sustainable palm oil.
What's in the soap:
Ingredients – Sodium palmitate, deionised water, glycerine, sodium chloride (natural salt), tetrasodium (HEDP), lemongrass and lemon myrtle essential oils, colours.
Size: 200g
Made in Melbourne.
Bath and Body Shop - Checkout some of our other 200g soap varieties: Lavender Soap, Bergamot & Geranium with Vitamin E Soap and Natural Goats Milk Soap.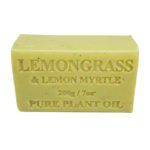 Lemongrass and Lemon Myrtle Soap
Your review
* Review is required
Email
* Email is required