Pamper and Relaxation Essentials
Soothe and relax
Lavender Heat Bag – helps to relieve aches, pains and muscle soreness
Lavender Sleep Pillow – helps you sleep…naturally
Lavender Eye Pillow – relief for sore and aching eyes
Lavender Essential Oil – relaxation in a bottle
PAMPER, RELAX AND SOOTHE
The pamper and relax essentials pack include four of our popular soothing and relaxing products: lavender heat bag, sleep pillow, eye pillow and lavender essential oil. Truly, the soothing, pampering and relaxing essentials that everyone should have.
At a glance - why you need to buy and try these products:
Save $$$
Natural relaxation
You're buying direct from the grower
Only top quality flowers and essential oil
The Lavender Heat Bag– Natural and safe. Contains Australian wheat and dried lavender flowers. Heat bags are a known remedy for the relief of arthritis and other muscle aches and pains. This mauve, heavy duty, but soft, cotton corduroy heat bag can easily mold to the contour of the area being treated. Microwavable, (TIP: place a small cup of water in with the bag, so it does not dry out too much).
Size – large.
Approx size: 39cm x 17cm.
Handmade by Mt Baimbridge Lavender.
Lavender Sleep Pillow – A natural way to help you sleep! (And we all know that we are much happier when we are well rested!) Lavender is well known to relax the body and mind, so let it help you sleep naturally. Simply tuck the sleep pillow inside your pillow slip and once again enjoy those sweet dreams. Contains only Australian lavender flowers.
Handmade by Mt Baimbridge Lavender.
Lavender Eye Pillow – Lie back, relax and soothe tired and aching eyes. Your eyes are delicate so this eye pillow contains only 100% Australian flax seed and lavender for your comfort. The combination of natural flax seed and dried lavender flowers will help to relieve tired, aching and puffy eyes. All encased in soft satin.
Handmade by Mt Baimbridge Lavender.
Lavender Essential Oil – Mother Nature's most versatile oil is lavender essential oil! Lavender essential oil can: soothe sunburn, bites and stings. Relieve acne, oily skin, psoriasis. Calm and relax your body and mind. Revitalise and tone your skin. Reduce scarring from minor cuts, burns and abrasions. Its anti-inflammatory and antiseptic properties will also help to combat and heal minor infections and, it is also a natural insect repellent, including head lice. Keep the cap on tightly and store in a cool, dark cupboard and it will last for years. Every home should have a bottle. Australian Pure Lavender Essential Oil.
Size: 12ml.
Products supplied individually in one parcel so that you can wrap your gift in that special way you desire.
All sold separately from our Natural Therapy Shop if you have your favourite.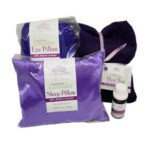 Pamper and Relaxation Essentials
Your review
* Review is required
Email
* Email is required