Lavender Eye Soothing Duo
An eye soothing pack is just what your tired eyes need
Helps to relieve the pain of tired and aching eyes
Eye Pillow – placed over the eyes it helps to soothe
Lavender Essential Oil – relaxing and calming
EYE SOOTHING PRODUCTS ESPECIALLY FOR YOUR TIRED EYES
HELP TO GIVE RELIEF TO YOUR ACHING EYES
At a glance - why you need to try these two great products:  
Save $$
Soothes sore eyes
Naturally relaxing
You're buying direct from the grower
Relax your tired, puffy and aching eyes with this Eye Soothing Duo bundle.
The Lavender Eye Pillow is filled with flax seed and dried lavender flowers. The best way to use it is to lie back and place it over your eyes. Be careful though as you might fall asleep because it's so calming! Tip: In summer you can place it in the fridge or freezer to cool it down first.
Lavender Essential Oil is well known for its calming and relaxing properties and will help you to unwind and relax. Put a drop of oil on your pulse point, you will absorb it faster. Absorbed faster = relaxing faster!
Size: 12ml
So, the eye pillow helps your sore eyes and the essential oil relaxes your body.
All local, handmade and Grown in Australia.
All sold separately from our Natural Therapy Shop also.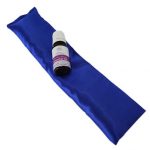 Lavender Eye Soothing Duo
Your review
* Review is required
Email
* Email is required