Natural Headache Relief
Ease a headache by rubbing in this natural relaxation oil on to your pulse points
Helps to calm, soothe and relax the throbbing pain of a headache
Convenient roll-on application
NATURAL RELAXATION OIL – FOR HEADACHES AND ANXIETY
At a glance - why you need to buy this relaxation oil:
Eases throbbing headaches
Only top quality essential oils
Fast absorption
Handy roll-on application
We all want to feel relaxed, don't we? Well, you'll feel relaxed and less anxious after using this natural relaxation remedy. It contains pure essential oils and is chemical-free.
Do you get headaches? Put this oil on your pulse points and feel the relief. The small roll-on applicator allows you to easily rub the oil into the pulse points on your wrists, temples or behind your ears.
If you are stressed by everyday things try applying some of our chemical-free relaxation oil to your pulse points and take a few minutes to revive your senses.
What's in the Relaxation Oil:
Ingredients include Soya Bean and Olive Oils, Essential Oils of Lavender, Bergamot, Ylang Ylang, Gardenia, Sandalwood, Patchouli and Rose Geranium.
Size – 15ml
We have Relaxation Essentials in our Natural Therapy Shop, check out the savings.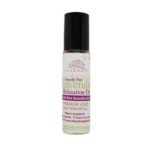 Relaxation Oil
Your review
* Review is required
Email
* Email is required