Soothe muscle soreness naturally
Ease that uncomfortable throbbing
Rub your body down after physical exercise to give your muscles a treat
Let the soothing 'heat' seep into the muscles to help them relax
MUSCLE CREAM FOR NATURAL , SOOTHING RELIEF
At a glance - why you need to try this arthritis & muscle cream:
All natural ingredients
Easy to open jar
You're buying direct from an Aussie grower
Then this cream will help. Massage this natural, chemical-free muscle cream into the painful areas where it will help give you soothing relief. Combine with hot and cold therapy (see below for some examples) for the best pain relief.
Sore after exercise? Then rub a little of this cream in morning and night to help reduce those sore muscles. You'll be ready to get back into your next session.
Containing 100% pure lavender essential oil, along with other natural healing oils, which combine to give you the pain relief you desire.
Give this cream a try and feel the difference.
Size: 100g
Made in Australia.
Check out our Soothing Essentials in the Natural Therapy Shop.
Other helpful tips:
Hot treatments – Long, warm showers or baths (best in the morning) will help ease any stiffness in your joints. Use a warm heat bag on the painful area for relief.
Cold treatments – are best for inflammation and relieving joint pain, swelling. How: Wrap a gel ice pack or a bag of frozen peas/vegetables in a tea-towel and apply it to painful joints for quick relief.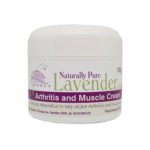 Arthritis & Muscle Cream
Your review
* Review is required
Email
* Email is required