Soothing Essentials – Small
Soothing Relief- help take away the pain of sore joints and muscles naturally
Let the warmth from the Lavender Heat Bag seep into your sore muscles
The Muscle Cream will help take soothe the pain
Lavender Essential Oil is well known for its calming and relaxing properties
Sit and relax and let the 'magic' properties of lavender essential oil take effect
Soothe Sore Muscles the Natural Way
If you want relief for sore muscles why not try our soothing essentials bundle
At a glance - why you need to give these products a try:
Save $$
Natural relief from aches and pain
Muscle cream feels great, smells great
Soothing and relaxing
The dried lavender flowers and wheat in our Lavender Heat Bag is a known remedy for the relief of arthritis and other muscle aches and pains. Place it on your knees, elbows, neck or back. Because its made from soft fabric and is easily molded to shape its ideal for these areas.
It's microwavable but Do Not Overheat – we recommend that you place a small cup of water in the microwave whilst heating.
Approx. size – 17cm x 17cm
Weight approx. 470g
Gently massage this natural, chemical-free Muscle Cream into the painful areas and it will help take away the arthritic aches, pain and muscle soreness. As you rub it in you'll first feel the 'cold' then gradually you'll feel the 'heat' as the oils get to work on your body. All the healing oils in the cream combine to help give you relief.
Size: 100g
This Australian Lavender Essential Oil is 100% pure. Lavender essential oil is well known for its anti-inflammatory properties and it will help you to relax as well.
Size 12ml
All products are also sold separately from our Natural Therapy Shop.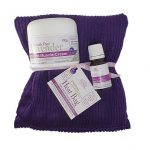 Soothing Essentials - Small
Your review
* Review is required
Email
* Email is required