Natural relief for tired eyes
Ease tired, aching or sore eyes caused by late nights or long concentration
Place the lavender eye pillow over your eyes and let your body heat release a lavender perfume whilst you relax
SICK OF GRITTY, TIRED EYES? NEED TO DE-STRESS? A  LAVENDER EYE PILLOW WILL HELP
At a glance - why you need to buy this lavender eye pillow:
You're buying direct from an Aussie grower
No fillers - only flax (linseed) and dried lavender
Only top quality seed and flowers
No pesticides or chemicals used
Can be used both cold (recommended) or warm
Let this lavender eye pillow work its magic on your tired eyes. It's made from cooling satin and filled with organically grown flax seed and dried lavender flowers and it's chemical-free for your safety.
Place the eye soother mask across your eyes and it will help to take the tiredness, aching and puffiness away. Want to help to take away the pain from a headache and generally just calm your mind? Then this eye pillow will help that too. A lavender eye mask will promote deep relaxation and aid in meditation. Many devotees of yoga use these eye pillows because of the benefits that they bring.
Don't leave this mask on too long or the lavender aroma will relax you so much that you might just fall asleep! It's renowned for promoting sleep, so combined with our sleep pillow, who couldn't have a good nights sleep.
If you would like to use it really cold, then just pop it in a sealable bag in the fridge or freezer before use. This is a great tip for those scorchingly hot summer days.
Contains: 100% Australian natural flax seed and dried lavender flowers
Size approx. 24cm x 7cm
Weight approx. 120g
Hand Made by Mt Baimbridge Lavender.
Take a look at our Sleep Pillow – complements this eye pillow beautifully and can be found in our Natural Therapy Shop.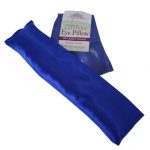 Lavender Eye Pillow
Your review
* Review is required
Email
* Email is required