Natural products to soothe, calm and relax
Lavender Sleep Pillow – let the light lavender perfume help you relax into sleep
Lavender Eye Pillow – soothe your tired and aching eyes with natural linseed and lavender
Lavender Essential Oil – a well known essential oil for relaxation and calming
Relaxation Oil – A blend of complementary oils for relaxation
Relaxation Essentials for Everyone
Natural Products for Natural Relaxation
At a glance - why you need to buy and try these products:
Save $$$
Naturally soothing and relaxing
Only top quality flowers and essential oil
You're buying direct from the grower
Do you want to feel relaxed? These relaxation essentials will help get you there.
Lavender Sleep Pillow: A natural remedy of lavender flower buds will relax your mind and help you sleep at night. Just place inside your pillow slip and let your body heat and movement release the perfumed oil. The aromatic and relaxation qualities of the dried lavender flowers are encased in a soft, square pillow for your comfort.
Lavender Eye Pillow: Let the 100% Australian natural flax seed and dried lavender flowers work their magic to help relieve your tired, aching or puffy eyes. Lie back and place it over your eyes but don't leave the eye pillow on too long or the lavender aroma will relax you so much that you might just fall asleep.
Lavender Essential Oil: This is one of the most versatile oils. This Australian essential lavender oil is 100% pure and it will tone and revitalise your skin. It's also known to help with all types of skin problems; acne, oily skin, sunburn, wounds and psoriasis. Most importantly though, is its relaxation and calming properties.
Size: 12ml
An oil to help you relax by applying to your pulse points is our Relaxation Oil. Made with a blend of complementary oils especially to help you relax.
Size: 15ml
All these products are also sold separately from our Natural Therapy Shop.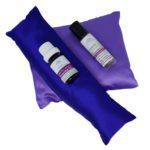 Relaxation Essentials
Your review
* Review is required
Email
* Email is required