Naturally dried lavender flowers, Australian grown
Dried lavender buds for use in craft projects
A natural way to deter pests from wardrobes and drawers
Use in your own bath bombs, confetti, door stoppers…
NATURALLY DRIED LAVENDER FLOWERS – 100% AUSTRALIAN GROWN
At a glance - why you should buy this dried lavender:
Grown using organic principles
Great to deter moths/silverfish from wardrobes
You'll be buying direct from a local, Aussie grower
The lavender flowers will be top quality as they are grown, harvested, dried and packed on the property
They retain their colour and natural properties
No pesticides
These flowers were harvested with a sickle at the best time in summer. Next, we air dried them under cover. The dried lavender bunches were then stripped and sieved on the hottest days so that they keep their colour and scent.
You can use the dried flowers in craft projects, like making sachets for drawers and wardrobes. Or put the flowers in your homemade soaps, bath salts or bath bombs where you will get both the benefits of lavender and the scent.
Because pests hate the scent of lavender you can sprinkle it around the backs of your cupboards and they will find a home elsewhere and you'll have no more moths or silverfish to eat holes in your clothes and ruin them.
By buying your dried lavender direct from the grower you can be guaranteed of getting top quality lavender flowers.
Let your imagination dream up lots more uses with these dried flowers.
We also sell dried lavender in bulk when we can. Mostly it's so popular that by mid year we start to run low and can only sell in the smaller quantities until the next harvest.
Not suitable for cooking with, do not eat.
Size: 100g
Grown in Victoria, Australia.
FAQ's
Q: Can you eat this lavender?
A: No. This dried lavender is for craft purposes or as a bug repellant only. (like moths/silverfish/cockroaches) See our culinary lavender range for edible lavender.
Q: How do I store dried lavender?
A: Keep it in a dry, darkened area, preferably in a closed container to keep the dust out.
Q: How long will it last?
A: Many years - if stored as suggested above. The colour may fade a little over time if there has been too much light but the scent will remain.
Tips: 
To release the scent from stored lavender or sachets just squeeze the flowers - scent lasts for years so try this before throwing dried lavender away
Make your own wardrobe or drawer sachets, bath bombs...
Sprinkle in the back of cupboards to keep moths/silverfish/cockroaches away
Use as a natural confetti - just mix with uncooked rice or dreid rose petals
Don't want to make your own wardrobe or drawer sachets? We have sachets ready to buy in our Home and Garden shop.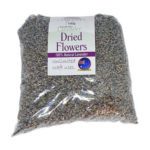 Dried Lavender Flowers
Your review
* Review is required
Email
* Email is required