Lavender bag to deter moths and silverfish
Place in your wardrobe, drawers and linen press
Pests hate the lavender smell – so you'll love it
Long lasting
A LAVENDER BAG TO GET RID OF PESTS FROM YOUR WARDROBE AND DRAWERS NATURALLY
At a glance - why you should buy this lavender bag to put in your wardrobe or drawers:
Great for the environment - no chemicals need to be used to get rid of moths, silverfish or other pests
No more holes in your favourite jumpers, coats or clothes
That musty smell will be replaced with a fresher aroma
Long lasting protection from moths and silverfish
You're buying from an Aussie grower where the lavender is grown, harvested, dried and packed onsite
This lavender bag for wardrobe pests will stop moths or silverfish from eating holes in your clothes. Just place this sachet on a coat hanger or pop in amongst your clothes in your drawers.
Moths and silverfish don't like the lavender smell so place these lavender wardrobe bags on the shelves, in the drawers and in pockets of your favourite coat.
An organza sachet of dried Australian lavender that will help to get rid of unwanted pests in your wardrobes or drawers, whilst leaving a pleasant scent each time you move them whilst selecting an item.
It's been known for many years that lavender deters pests, no need for chemicals just use what nature has provided.
This bag will last for years and years.
Buy your lavender bags now to get your wardrobe and drawers back under control.
Size: Large
Dimensions: h11cm x w9cm x d3cm.
Grown in Australia.
Prefer smaller Lavender Sachets? Check out our small bags of lavender.
Maybe try our Lavender Scented Rocks.
Check out our Home and Garden Shop for more ideas.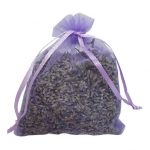 Lavender Bag - Large
Your review
* Review is required
Email
* Email is required