A lavender liquid soap for the whole family
Pump action for ease of use
Less messy and more hygienic than soap
Mild antiseptic properties to help kill germs
GENTLE LAVENDER HAND WASH – MILDLY ANTIBACTERIAL
At a glance - why you should buy this liquid soap for your household:
Great for the whole family
Helps to kill germs on your hands
More hygienic than a bar of soap
Smells great
(New image coming soon - Bottle is now an amber bottle similar to the bath & shower gel - slightly shorter and slightly wider)
This is a gentle, lavender liquid soap or hand wash that is safe for the whole family.
Washing your hands is the best way to eliminate harmful germs. This lavender hand wash is mildly antibacterial and has disinfectant qualities to help kill those germs. After washing your hands there will be a delicate scent of lavender.
Why do we need to wash our hands? Hand washing is the most effective way to stop infections or germs spreading. Germs and bugs can be spread just by touching another person.
Place one container at each hand basin or sink. It is not as messy and is more hygienic than a bar of soap.
Size: 255ml
Made in Australia.
Someone in your family still likes the soap bar? We have them too, in our Bath and Body Shop.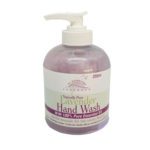 Lavender Hand Wash
Your review
* Review is required
Email
* Email is required