Fresh Linen and Clothes
Handmade from Australian fine clay and essential oil
Long-lasting scent and convenient small size
Rid the musty smell from your drawers or wardrobes
A HAPPY LAVENDER SCENTED ROCK
Great for keeping those nice smells in the places we need them most
At a glance - why you need to put some of these in your drawers:
Infused with essential oil
Can be 'reinfused' with oil - so don't throw away when smell needs replenishing
No chemicals or artificial oils
A smiley face to brighten your day
Handmade in Victoria
The scented rock poem – please put us in your drawers to lightly scent your clothes or let us sleep inside your shoes to ward off smelly toes.
Place the rock in your linen press, drawers or any enclosed area where you would like a light, fresh scent. Re-infuse them with essential oil as necessary. The rocks will last for many, many years, you'll just need to 're-oil' them every now and again.
They are handmade from natural Australian fine clay and infused with 100% pure Australian Lavender Essential Oil and all have a happy face to brighten up your day.
Size: 2.5cm (Size and Design may vary slightly as they are handmade)
Made in Australia.
Prefer  a Lavender Sachet? We have them too in our Home and Garden Shop.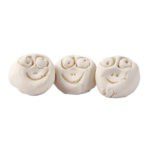 Lavender Scented Rock
Your review
* Review is required
Email
* Email is required