Lavender scented bag to get rid of wardrobe pests
Place among your linen, clothes or in the wardrobe
Deter moths, silverfish and other pests
LAVENDER SACHET GETS RID OF WARDROBE PESTS NATURALLY
At a glance - the benefits of using a lavender sachet in your wardrobe or drawers:
Great for the environment - no chemicals need to be used to get rid of moths or silverfish
No more holes in your favourite jumpers, clothes or linen
No more musty smells
Long lasting protection from moths and silverfish
You're buying from an Aussie grower where the lavender is grown, harvested, dried and packed onsite
Put a small bag of Australian dried lavender flowers in your clothes drawers, the linen press or just hang from a coat hanger in the wardrobe. If you are looking for a lavender sachet to get rid of moths and silverfish then this is the one for you.
The organza bag of dried lavender will help to get rid of those unwanted pests whilst leaving a pleasing smell when you're picking out what you want to wear. Pop them in the pockets of clothes, coats or even shoes that are being stored for the winter months. There is nothing worse than finding holes in your favourite clothes next season. These little bags are full of the fragrance of lavender.
Moths and silverfish don't like the scent of lavender so that means that you'll love it.
Lavender bags of dried lavender have been used for hundreds of years to get rid of annoying pests and these scented wardrobe sachets are just the right size to send the moths and silverfish on their way!
Buy now from the shop to get rid of musty smells and pests from your drawers and wardrobe – they'll last for years.
Tip: Squeeze the lavender sachet regularly to release the lavender smell.
Size:  Approx - h9cm x w7cm (when unfilled and flat)
Lavender grown in Western Victoria.
Note: Colour of sachet may vary but will be of a lavender or purple hue.
Maybe change it up and try a Lavender Scented Rock.
Go to our Home and Garden Shop for more great products.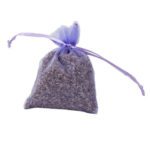 Lavender Sachet
Your review
* Review is required
Email
* Email is required